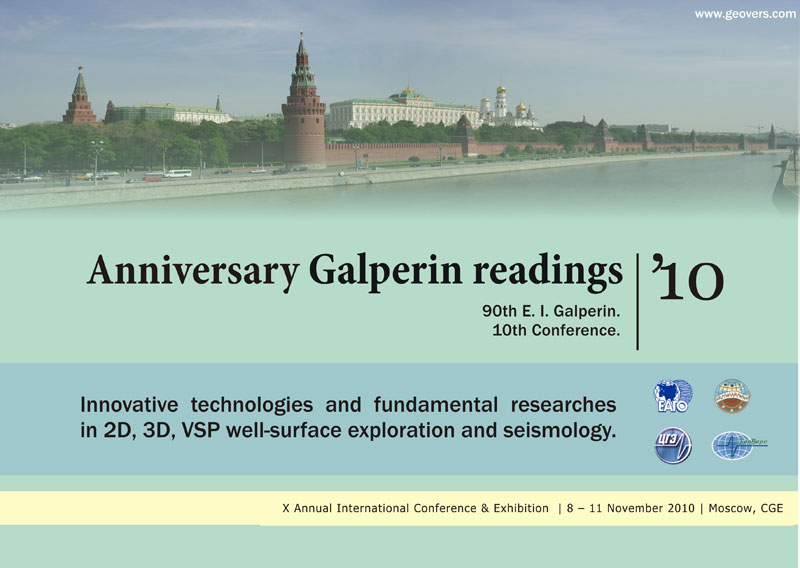 Dear Geologists and Geophysicist of oil and gas geophysical companies and scientific research institutes!

This year in 8-11 of November the twice anniversary because of 90-years jubilee of the outstanding Russian geophysicists E.I. Galperin and 10th under the account annual conference on surface and berehole seismic problems «Galperin Readings 2010» will take place. CGE Ltd and Geovers Ltd are glad to invite you and your colleagues to take an active part with your activements in the conference.
We are sure that you understand very well a role of seismic prospecting not only used for search and investigation of deposits, but also in geological and even hydrodynamic modelling of processes of working out and operation of deposits, promoting the decision of such challenges, as specification of a deposits contour new wells coordinates definition, drilling correction and working out, and also new wells coordinates difinition new geophysical information extraction which used for more exact calculation of resources and stocks of hydrocarbonic raw materials.
You should also know that the solving of these problems appreciably became possible because of integration of land seismic 2D and 3D observations with various VSP methods, especially of three-componental waves of different type registration.
Moreover, its possible to observe a geological structure near the well or between wells even with absence of surface seismic observations aplying special VSP systems. Its clear, how much it is more economic than 3D surface seismic processing. There are many technological possibilities to increase of geological efficiency by means of VSP with seismic data integration for high results of our final task - oil extraction providing. Thus, every year the conference program extends because of innovative developments and results of theoretical works presentation.
All about how one could achive high result of work in different cases using well and surface seismic geophysical data you can find out on "Galperin readings".
The conference are hold once a year in Moscow by CGE Ltd and Geovers Ltd under the aegis of ЕАGS and sponsored by EAGE and other companies which are interested in development of technology and the theory of searching prospecting and operation of oil and gas deposits.
You can take all details of the conference, conditions of participation and representation of reports from investment to this letter and learn it on site www.geovers.com or by phones:
Phone.:+7 (499 192-65-39
Fax: +7(499) 192-81-35
E-mail: manukov@cge.ru
Program committee "G.R."
---
X Annual International Conference and Exhibition "Innovative technologies and fundamental researches in 2D, 3D, VSP well-surface exploration and seismology."
Galperin Readings is a specialized annual forum on innovative technologies in the seismic prospecting based on a fundamental wave propagation theory. Forum inheriting traditions founded by E. I. Galperin, the inventor of the VSP method.
The special subject of the X Conference is the integration of surface and borehole seismic surveys with data processing and interpretation software (3D+VSP), and also problems of applied seismic based on fundamental theory.
Exhibition Purpose is to show latest achievements in the development of acquisition tools, devices and other auxiliaries for seismology and seismic prospecting.
Oil and gas companies, geological and geophysical companies as well as research centers, universities and other interested organizations are invited to participate in the Conference and Exhibition.
Conference Organizers
Venue
The Conference and Exhibition will be held at the Central Geophysical Expedition (CGE), one of the leading geophysical services provider in Russia.
Since 2006, Galperin Readings Conference is held under sponsorship and informational support by the European Association of Geoscientists and Engineers (EAGE-PACE), Euro-Asian Geophysical Society (EAGO) and other interested geophysical and oil companies.
Schedule
| | | |
| --- | --- | --- |
| November, 8 | Monday | Registration |
| November,9–10 | Tuesday — Wednesday | Conference and Exhibition |
| November, 11 | Thursday | Commercial presentations of software tools and technologies |
| November, 11 | Thursday | Theatres of Moscow |
Participation
To participate, please fill out an Application Form and deliver it by e-mail or fax to the Organizing Committee. Please, submit
| | |
| --- | --- |
| by October, 25 | Application for Presentations |
| by October, 30 | Application for Participation in Exhibition |
| by October, 30 | Application for Commercial Presentations |
| by November, 8 | Application for Conference and Exhibition Attendance |
| | |
| --- | --- |
| Registration fee for participants and attendees | €300 |
| . | . |
| Cost of rent in the Exhibition area (1 m2) | €100 |
| Commercial presentation fee (30 min) | €450 |
| . | . |
| Workshops and excursions | €100 |
VAT is not included. Payment may be made by bank transfer to GEOVERS Ltd.
---
Attention! Please read the Conference booklet materials: deadline for applications, abstracts submission and text formatting requirements. Remember that correct and in time implementation of all the prescribed instructions simplifies paperwork and makes the conference a pleasant in all aspects.
Booklet contents:
The main subject and purpose of conference & exhibition;
Venue and schedule;
Participation, registration fees and sponsorship;
Application form and the abstract text formatting requirements;
Contact information and how to reach.
For additional questions, please contact organizing committee.
---
Organizing Committee:
phone/fax: +7 (499) 192-81-35
www.geovers.com
Chairman Organizing Committee: Dr. Georgy Gogonenkov
Deputy Chairman Organizing Committee: Dr. Alexander Tabakov
e-mail: vsp@cge.ru
Chairman Program Committee: Victor Manukov
phone: +7 (499) 192-65-39
fax: +7 (499) 192-80-88
e-mail: manukov@cge.ru